User-friendly
Point of Sale
Set-up in minutes, sell in seconds.
Compatible with any device.
Free. Unlimited Users. Forever.
Payments
Payment methods
Cash, checks, and credit card payment methods are available. New types of payment methods can be added as well.
Credit/Debit cards
All electronic payments are handled by external payment terminals.
Split tenders
A single order can be paid as a split payment between multiple parties as well as with separate payment methods.
Currency rounding
Prices and payments can be rounded to the smallest denomination of the currency.
Offline payments
Orders made offline are automatically synchronized when you are reconnected.
Invoicing
Generate and print invoices for your business customers.
Accounting
Payments are directly integrated into Odoo Accounting to make bookkeeping simple and reliable.
Customer tips
Supports customer tipping either as an added amount or by converting change to a tip.
---
Checkout
Prices & discounts
Set customer prices or offer percentage-based discounts on either a single product or the entire order.
Parallel orders
Put orders aside and process multiple orders at the same time.
Customized receipts
Advertise your current promotions, hours of operation, and upcoming events on your printed receipts.
Weighting at the counter
Calculate product weight during checkout with the electronic scale integration.
Blazing fast search
Quickly find your customers and products with the built-in search features.
Multi-step checkout ( Coming Soon )
Sell at one Point of Sale and pay at another with multi-step checkout.
Sell on the move
With iPad and Android tablet support, sell anywhere within your store or restaurant.
Dynamic barcodes
Embed price, weight, and discount information directly into your barcodes.
---
Store Management
Order history
View all past orders as well as search by customer, product, cashier, or date.
Daily sales
Keep track of daily sales and totals for every payment type.
Cashier accounts
Manage multiple cashier accounts and secure them with badges or pin codes.
Cash flows
Monitor cash register adjustments and easily verify cash contents at the end of the day.
Stock & Inventory
Monitor your stock in real-time, manage your inventory across all locations, and review shipments with the Odoo Stock integration.
Franchises
Pre-configure your franchises stores, overview their sales, and centrally manage their stock and accounting.
---
Customer & Loyalty
Register customers
Identify your customers by simply registering their email and contact address, allowing you to offer discounts and keep track of individual sales.
Identify customers
Look-up your customers with the built-in search feature or identify them with a barcode printed on their loyalty card.
Business Customers
Register your customer's VAT number and apply them to invoices.
Loyalty Cards
Reward your customers with loyalty points and exchange them for gifts or discounts. Points can be earned by product, by order, or by sale amount.
---
Restaurant Management
Floor plans
AAssign orders to tables and receive an overview of your restaurant's floors as well as make changes on the go with the graphical editor.
Manage seating
Keep track of your guests with an overview of your restaurant's capacity and table availability.
Kitchen printing
Send the order instructions to the bar and kitchen printers. Instructions can be sent to different printers automatically based on the product category.
Delayed orders
Take orders for different courses of the meal at once with the ability to send them to the kitchen printer at separate times.
Kitchen order notes
Add notes for customer's preferences, allergies, or special requests and send them to the kitchen or bar printers.
Split bills
Let customers pay separately or at different times by splitting orders.
---
Products
Product categories
Organize your products with hierarchical product categories. Order them by popularity and display different categories in different point of sales.
Product Search
Quickly find products by their name, barcode, or description with the built-in search function.
Units of measure
Sell your products with custom or preset units of measure and update your stock accordingly.
Multiple barcodes
Configure multiple barcodes for the same product with barcode nomenclatures.
Product variants
Sell different sizes, colors, or configurations of the same product with product variants.
Large product count
Odoo's Point of Sale system is capable of performing at a scale of over 100,000 products.
---
Web Application
Browser support
Odoo POS is a web-based application and can be deployed on any device and OS running Chrome, Firefox, or Safari.
Microsoft Windows, Apple OSX, Linux, Android, and iOS are all supported operating systems.
iPad first
Odoo POS is best used on a recent iPad or Android Tablet of comparable size and performance.
PC compatible
Odoo POS can also be used on standard PCs and tablets as well as industrial touch-screen terminals.
Works offline
Odoo's POS will keep working while offline. The web browser can be closed offline without loss of data.
HTML5 mods
Odoo's POS is Open-Source and can be customized with HTML5/JS extension modules.
Configurations
3 ways to set-up your shop.
Desktop PC & Laptop
Running your shop in your browser on your PC or Laptop is the cheapest and most flexible option. Usb barcode scanners are natively supported. Receipts can be printed on any thermal or inkjet printer compatible with your web browser.
Extra hardware such as weighing scales or ESC/POS printers can be used with the PosBox.
Tablet (iOS and Android)
Tablets take a lot less space, their touchscreens are a joy to use. And they are light enough to be freely moved around your shop. Or you can put them in a nice stand and secure them on your front desk.
Of all stands and tablets we recommend the iPad Air 2 and the Heckler Design Windfall Stand.
Industrial Touchscreen
Hard to break and steal, industrial touchscreens are the perfect solution for shops and restaurants with a high volume of staff and customers. Odoo POS on industrial touchscreens is compatible with the same peripherals as Laptops & PCs.
---
PosBox
The cross-platform hardware solution.
What is the PosBox?
The PosBox is a small device that allows you to use the same industry standard USB POS peripherals on every device (PC, Mac, Linux, iOS, Android ). Not only does it makes the setup easier, it actually lowers your costs.
Easy to setup
Plug your peripherals to the PosBox, connect it to your local network, and you are done. Restart your Odoo POS, and your peripherals are ready to use.
Open source hardware
The PosBox is based on the Raspberry-Pi platform and is made of Open Source Software and Hardware. You can buy it from us, or you can build your own.
Lower your costs
The downside of iPads and Android tablets as POS device is that lacking USB connections, you need to buy specific Apple-certified bluetooth peripherals. Those are much more expensive than their industry-standard USB equivalent. By letting you use those less expensive peripherals with a Tablet, your costs are greatly reduced.
---
---
Barcode Scanners
Odoo POS will work with most USB Barcode Scanners, connected to the PosBox or directly on your computer.
Bluetooth barcode scanners and network receipt printers are supported natively, USB barcode scanners, printers, etc. are supported with the PosBox.
Of all compatible barcode scanners, we recommend the Honeywell Eclipse product line. They are compatible out of the box with the PosBox. If you connect them directly to your PC they need to be configured to use your pc keyboard layout.
Honeywell Eclipse
---
Weighing Scale
The PosBox enables Odoo POS to integrate with electronic scales. The product weight is read in real-time from the scale to your point of sale.
The PosBox natively supports the Mettler Toledo Ariva product family.
The ADAM Equipment AZExtrafamily is also supported (as of v15).
Support for other models can be added on a case-by-case basis.
Mettler Toledo Ariva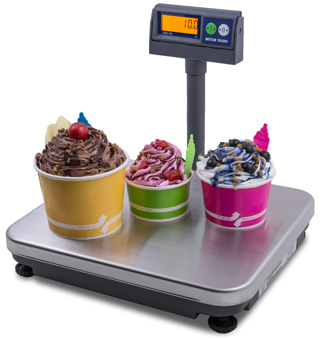 ---
Cash Registers
Odoo POS can operate any EPSON compatible cash register. Cash registers can be opened manually with a key or remotely by Odoo POS.
A PosBox and a PosBox compatible thermal printer is required to operate the cash register.
We recommend the
Metapace K-2
---
Receipt Printers
With the PosBox
The PosBox is compatible with popular thermal printers such as the EPSON TM-T20, the EPSON TM-T70, the EPSON TM-T88 and the Star TSP650II.
Other printers that support the ESC/POS protocol natively (not via software emulation) will often be supported too.
Support for other printers can be added on a case by case basis.
On PC
Odoo POS can print on any web-browser compatible printer. This includes most inkjet, laser and thermal printers, connected by USB or via network. We recommend using the PosBox for easier setup and faster printing.
EPSON TM-T20

EPSON TM-T88

Star TSP650II

USB interface only
---
Card Readers
The PosBox supports the Magtek Dynamag, a USB magstripe card reader for merchants that want both security and ease of use. Only card readers encrypted by Vantiv will work with Odoo POS. Contact Vantiv
Dynamag
---
Payment Processing
Get fast, reliable, and secure payment processing with MercuryPay, a Vantiv product, for your Odoo POS, Odoo mobile application, and website in U.S. and Canada.
Enjoy reliable uptime, real time transaction viewing, next day funding capability and promotional payment options.
Download the brochure
Compatible with any
hardware
No installation and no specific hardware required.
Tablets
Laptops
Desktops
Industrial Machines
Everything your shop needs
Odoo POS is based on a smart interface that any retail company can use without difficulty. Because it's extremely flexible, you can configure Odoo POS to meet your precise needs.

Online
or

offline

Odoo's Point of Sale stays reliable even if your connection is not.

Set up new stores quickly and easily with just an internet connection. Then use your Point of Sale everywhere, anytime.

While an internet connection is required to start the Point of Sale, it will stay operational even after complete disconnection.
Keep in touch with your customers
And keep them coming back with loyalty programs
Reward your loyal customers with points, gifts and discounts with Odoo loyalty programs. The whole process is fast and can be entirely automated. Identifying your customers is even faster with loyalty cards and customer barcode ids.
Register your customers to keep track of their buying habits. You can then send them special offers and sale notices with Odoo Mailing. Register tax identifications for your business customers and give them invoices instantly (or send by email).
Integrated Inventory management
Real time control & accurate forecasts to manage procurements.
Odoo Inventory app automatically inputs any transaction from the POS in the stock. You can see in real time the availability of products without losing time. Furthermore, the POS is compatible with Odoo eCommerce. You won't need to setup separate stocks for the two apps and be a truly multi-channel business, without headache.